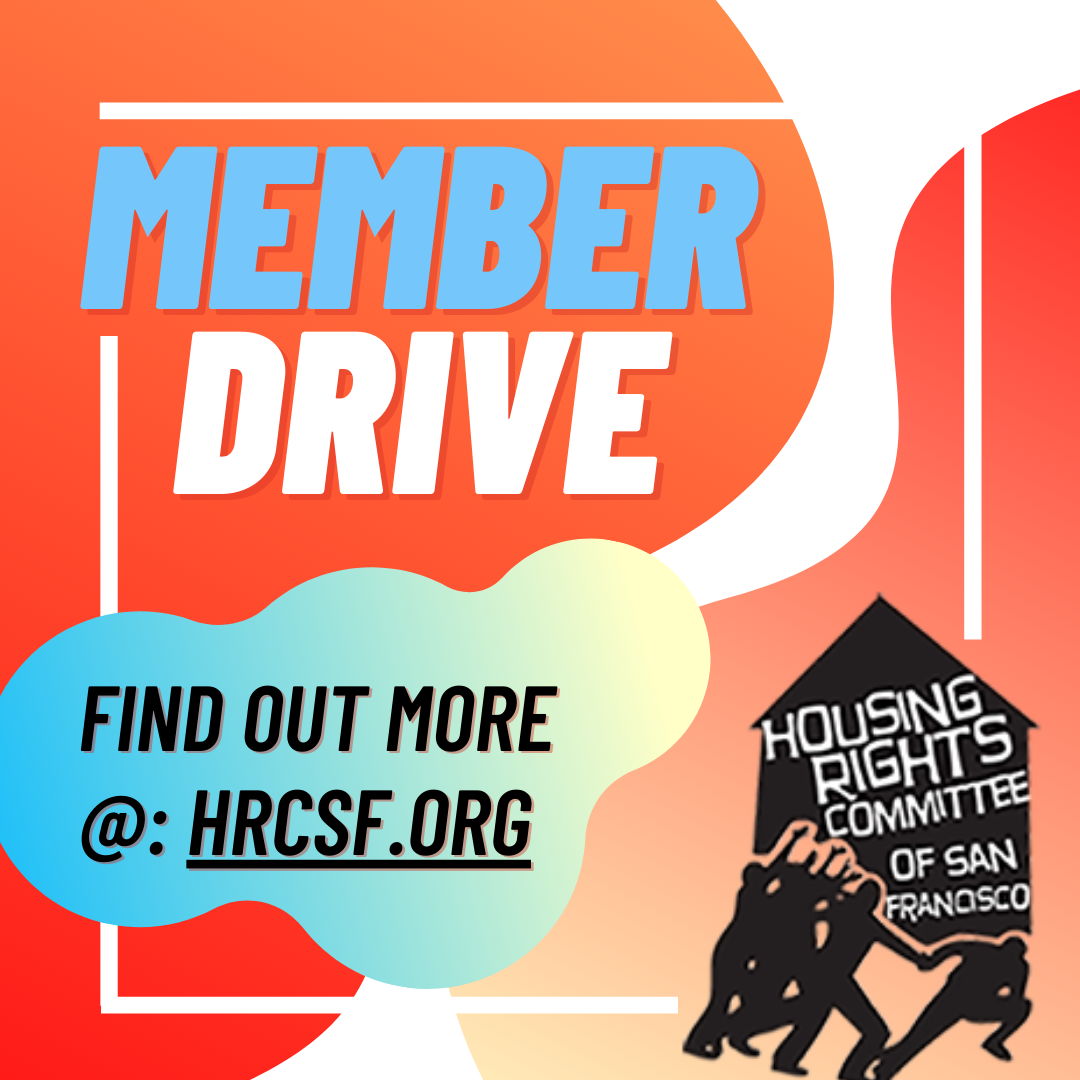 Why Membership?
HRC is funded by the City to sustain the work of 20+ staff in three offices working in multiple languages and in all types of private and public housing. But City money is restricted and, as we saw with the recent fight over the City budget, it is also unreliable. We are shifting to a grassroots membership model because you (the tenants we work with and for) should lead our work!
What does it mean to be a member?
Dues-paying members are crucial to expanding HRCSF and making this organization truly member-driven. Members are key to building and sustaining tenant power throughout San Francisco. Participate according to your means - your dues and/or time will shape the housing movement!
Do I just pay once? Do I have to pay the same amount every year?
You'll pay annually, and you'll get an email reminder from HRCSF each year so you can decide. The amount can change each year if your personal circumstances change.

Donate via Credit Card or eCheck
Housing Rights Committee of San Francisco FAQ
Is my donation tax deductible?
Yes, we are a fiscally sponsored project of San Francisco Study Center , which is a public 501c3 organization recognized by the IRS. Your donation is tax-deductible to the fullest extent permissible by law.
WeDidIt FAQ
Is my donation and credit card info secure?
Yes, the security and confidentiality of your information is our highest priority. We will not sell, trade or share your personal information with anyone else, nor send donor mailings on behalf of other organizations, and we will only share personal information if you have given us specific permission to do so.
How do I know that my donation was made successfully?
You will receive an emailed receipt immediately after your donation is submitted and your credit card is processed. Your donation will also show up on your bank or card statement within 1-3 business days.
Do I get a receipt?
Yes, a receipt is sent to your email inbox once your donation is processed. Please be sure to keep a copy of your receipt for tax purposes. If you select a recurring donation, you will be sent an individual receipt each period when your donation is processed.
Is my donation private?
We will not share or sell a donor's personal information with anyone else, nor send donor mailings on behalf of other organizations.